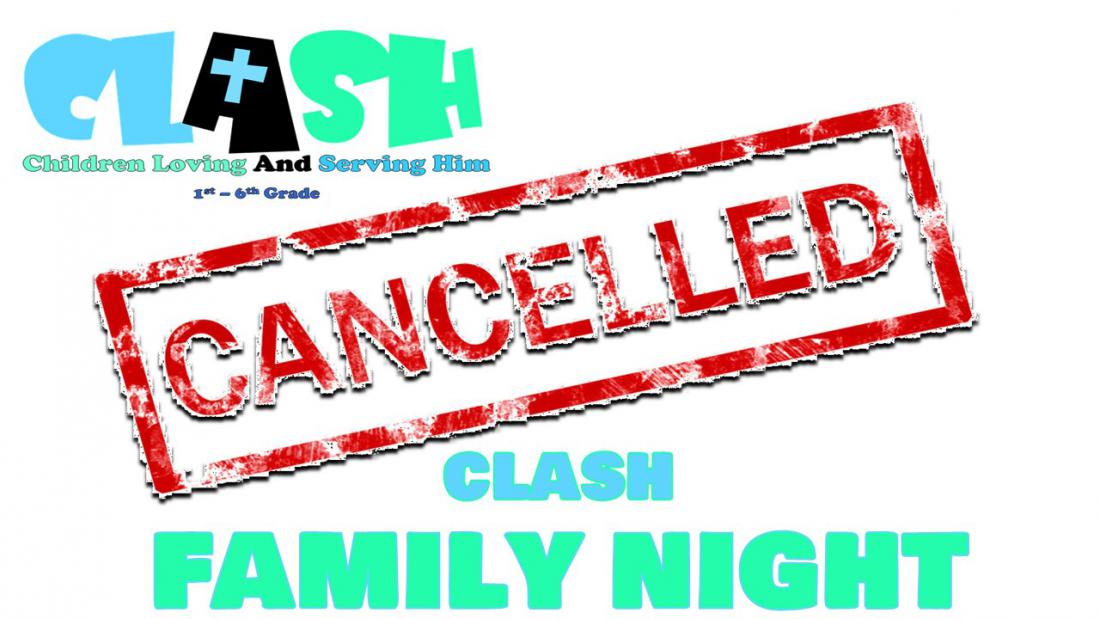 The CLASH Family Night which was scheduled for Wednesday March 18th at 6:00 has been cancelled. We are disappointed we were not able to share a final night with the students and their families, but feel it's best to not meet at this time.
Thank You to all the parents, grand parents and other care givers who have shared their children with us. We so appreciate, them and you.
As we go forward with some uncertainty in the world today, we encourage you to rest and rely on the certainty of Jesus.
CLASH Student Ministry
1st - 6th Grade Students Wednesday 6-7 p
Feb 5 - Mar 18
CLASH - Children Loving And Serving Him

CLASH is our children's ministry program for students in 1st through 6th grade. CLASH meets for 8 weeks twice a year. CLASH is a fun and energetic place for students to learn about God, how they can grow closer to Him and ways they can serve and give glory to Him! .

Welcome to CLASH!

All students in 1st through 6th grade are invited to join us for CLASH! We meet on Wednesday night from 6-7pm for 8 weeks, twice a year.

The Fall Clash Sesion is from October 9th through November 20th. Each session we have a service project our Fall session service project is Operation Christmas Child! We are called to LOVE and SERVE... our goal is to help children do both!

The Spring CLASH session will run from February 5th through March 18th. You can register by CLICKING HERE!

For more information about CLASH or any of our children or student ministries contact Pastor Doug Betts
EMAIL


Like us on Facebook!


Keep up with all that is going on at CLASH by liking and following the CLASH facebook page!
CLICK HERE!


Join our Parent/Caregiver Group

We have a facebook group just for parents, grandparents and caregivers of children and students in our ministry. Click on the link below and answer a few questions to confirm you relationship to a child in our ministry and you'll be added to our group!
CLICK HERE!


Operation Christmas Child

Our service project for the fall session of CLASH is Operation Christmas Child. Each group will be packing boxes for children to recieve through operation Christmas Child. If you would like to learn more about Operation Christmans Child, the kinds of things to pack (or not pack) or how you can be a part of this ministry
CLICK HERE!

News and Info

Serve & Volunteer

There are lots of opportunities to serve in CLASH and other children and student ministries. If you'd like to learn more about how you can serve please contact Pastor Doug Betts
EMAIL